Cab-Lab
Jump to navigation
Jump to search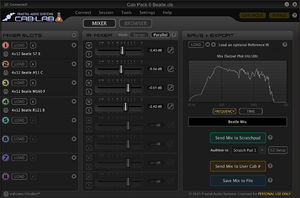 What is Cab-Lab
Fractal Audio's Cab-Lab is a mixer and toolkit for IRs (Impulse Responses).
Product information: "Cab-Lab lets you combine up to 8 individual IRs, auditioning the results in real time as you mix, and saving the result as a new User Cab IR for use in your own presets. The totally new mixer in Cab-Lab 3 also goes beyond simple combining, with mix tools to process, trim, filter, and adjust phase. You can even listen in real time while you adjust faders, whether using the Standalone version and an audio interface (including the Axe-Fx II), or the Plugin version in your DAW to process live or pre-recorded material. The Standalone version also includes tools to help you capture, convert, and batch process IRs, making it an exceptionally valuable component of a complete IR workflow. Either way, Cab-Lab gives you the tools you need to create your own signature tones—and delivers results of the high quality you have come to expect from Fractal Audio Systems."
More information:
Standalone edition or plugin
Cab-Lab is a commercial application and requires iLok activation before use.

Standalone – To be used with the Axe-Fx and AX8 and a computer.
Plugin – To be used in DAWs. Mac: 64-bit AU. Windows: 32-bit and 64-bit VST. The manual lists the differences between the standalone version and the plugin.
There's also a free Lite version:
Cab-Lab 3 Lite – Stripped-down version, designed to allow users to easily convert IRs in WAV-format to .SYX, to send to an Axe-Fx or AX8.
Download Cab-Lab Lite for Windows or Mac

The Cab block in the Axe-Fx III is a mini-version of Cab-Lab, providing the capability to mix and remix impulse responses on-the-fly, as you would with real mics on a speaker cabinet.
EZ Setup
EZ Setup in the Standalone version makes it easy to audition impulse responses. It automatically sets the Cab block in the preset to one of the Cab block's Scratchpads and sends the mix to that Scratchpad. It's a handy alternative to Live Mode.
Live Mode
Live Mode lets you mix impulse responses and listen to them in real time on your computer or through the Axe-Fx or AX8, without using the Cab block's Scratch-Pads. Select the audio input and output in Settings > Audio Settings. Important: make sure you have disabled the Cab block in the preset! To decrease latency, adjust BUFFER SIZE in Advanced Settings.
Min Phase and Auto Trim
Read this: Minimum Phase and Auto Trim
Use IR files to mix UltraRes impulse responses
To mix UltraRes impulse responses in Cab-Lab, you need the IR version of an impulse response. This is a Fractal Audio proprietary format, targeted at mixing impulse responses.
Convert Wave, SYX and IR files
Creators of impulse responses often provide WAV files. These need to be converted to Fractal Audio's .SYX-format to be able to be used in the Axe-Fx and AX8. Cab-Lab provides a conversion batch routine. Axe-Edit's Axe-Manage Cabs tool can also convert Wave files on the fly.
Rename impulse responses
Cab-Lab can rename the internal name of impulse responses (the name that appears on the Axe-Fx, AX8, in the editor etc.). It can also rename impulse responses to match their filenames.
Capture impulse responses with the Axe-Fx II or III
Read this: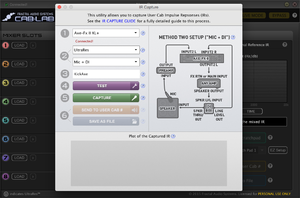 Using Cab-Lab with a real amplifier
"Load your head with a load box, take the output of the load box into your computer and run the audio through Cab-Lab. I would recommend a reactive load box rather than a resistive one." source
Read this: X-Load