Always consult the official Owners Manuals first!
Pages A-C are under review. Pages D-Z have been checked and are up-to-date.
Cab-Lab
Jump to navigation
Jump to search
What is Cab-Lab
Fractal Audio's Cab-Lab is a mixer and toolkit for IRs (Impulse Responses).
Product information: "In the world of Fractal Audio's industry-leading amp modeling, many musicians recognize the importance of Impulse Responses ("IRs"). IRs can be thought of as sonic "captures" – essentially the "frequency fingerprint" of a tone over time. Fractal Audio was the first to allow installable IRs in a guitar product to recreate the sound of a mic'd speaker cabinet, setting a new industry standard. Suddenly, guitarists could encapsulate the essence of a speaker cab in a portable format, enhancing both studio recording and live performance. Now, Cab-Lab 4 with DynaCab makes it quicker, easier, more intuitive, and fun to achieve great tone, allowing you to customize and mix IRs yourself.

For decades, guitarists and audio pros have carefully selected, positioned, and mixed microphones on guitar speakers in the pursuit of great tone. Now you can do the same, and it is easier than ever before. With Cab-Lab 4, you get a 4-channel IR mixer, plus tools to EQ, align, and more, so you can select, position, and mix mics while listening in real-time. Meanwhile, new DynaCab technology makes tone sculpting easier than ever, eliminating the need to sift through countless individual IRs. In fact, the DynaCab system in Cab-Lab 4 offers even more resolution and flexibility than our hardware products, with 360° of placement at variable distances, the possibility of additional microphone choices, and more. Best of all, Cab-Lab is now FREE!

Cab-Lab 4 supports our latest DynaCab Packs, as well as traditional single IRs — whether from Fractal Audio legacy cab packs or 3rd party producers. Cab-Lab gives you the tools you need to create your own signature tones—delivering the high quality results you have come to expect from Fractal Audio Systems.

Cab-Lab 4 comes with both Standalone and Plugin Versions. The Standalone uses your Axe-Fx III, FM9, FM3, or another audio interface so you can monitor in realtime. Meanwhile, the plugin version processes audio in your compatible DAW or host and can be used both to "re-cab" raw amp recordings and export IRs for your Fractal Audio hardware product."
More information:
Cab-Lab features
4-Channel IR Mixer with per-channel level, EQ, mute, solo, and phase controls.
Each channel can be set to DynaCab or Single IR.
Single IR mode supports .WAV, .IR, and non UltraRes .SYX files.
DynaCab mode offers easy, intuitive, visual mic-on-speaker positioning with 360° center-to-edge mic placement, and adjustable mic distance.
DynaCab mode supports new DynaCab Packs, available from https://shop.fractalaudio.com
Global and per-channel EQ with selectable-slope Low Cut and High Cut filters and frequency plots.
"ZOOM" view allows precise mic positioning using real-world units (cm or in)
"ALIGN" view allows you to adjust IR time for precise phase control. (DynaCabs are automatically aligned at any mic distance but can be adjusted further.)
Built in Cab Pack Manager automatically handles DynaCab pack downloads, installation, and authorization.
Cab-Lab 4 Standalone connects directly to Axe-Fx III, FM9, and FM3 or any compatible audio interface for real time monitoring in "Software Live Mode".
Standalone mode can send mix IRs directly to User Cab memories of the connected FAS device.
"Hardware Manual" audition mode sends your mix IR to "Scratchpad 1" on a connected Fractal Audio device.
Audition setup uses easy "DO IT!" wizards.
Cab-Lab 4 Plugin runs in a DAW or host to "re-cab" life or recorded amp tracks. Cab-Lab 4 is an excellent way to re-cab plugins or a tube amp using the Fractal-Audio X-Load LB-2 Load box.
IR Capture Utility facilitates the creation of individual IRs using an Axe-Fx III.
Cab-Lab saves Sessions for total recall any time you re-launch the program.
Wav Conversion utility batch converts .wav IRs to .ir and .syx formats
IR2Syx utility batch converts .ir to .syx
IR Phase Invert utility batch corrects inverted IRs (i.e. those created when a speaker is wired backwards.)
RefIR Batch utility applies a reference IR to remove coloration imparted by a power amp.
Rename IR utility renames a single IR.
Copy Filename to IR name batch utility allows changing the internal IR name of multiple files.
Cab-Lab 4 Standalone is self-updating when new versions are released.
New and improved "dark mode" look and feel.
Standalone and plugin versions
Cab-Lab 4 has two versions.
The standalone operates independently without needing another software platform, while the plugin requires a host application or DAW such as Logic, Reaper, Live, etc. The Standalone uses your Axe-Fx III, FM9, FM3 or any compatible audio interface for "Software Live Mode" auditioning. A wizard helps you to set up an "amp modeling only" preset, allowing Cab-Lab to perform speaker cab simulation while you monitor, mix and adjust it in real time. When you're happy with the result, you can save it as a file to your computer or directly to a connected Fractal Audio device. The standalone also includes a collection of powerful IR processing tools.
The plugin is tailored for "re-cab" applications in a DAW using any audio interface to mix and monitor in real-time. This allows you to mix and monitor in real time. It doesn't connect to Fractal Audio hardware directly, but it offers the capability to export an IR to your computer. You can then upload this IR to any compatible Fractal Audio device later.
The plugin for Macs requires 64-bit AU- or VST3 capable host software. The plugin for Windows requires 64- or 32-bit VST3 capable host software.
DynaCab packs
Use the built-in Cab Pack to download, install, and authorize DynaCab packs purchased from the Fractal Audio Systems online store at https://shop.fractalaudio.com.
SW Live Mode (Software Live Mode)
Software Live Mode (standalone version) allows you to hear mic and mix changes in real time, replicating how this process works on analog gear. It relies on a signal with amp modeling but no cab processing. A wizard helps you to set up your Axe-Fx III, FM9, or FM3 for this purpose. An audio interface is required. A connected Axe-Fx III, FM9, or FM3 is the perfect choice.
HW Manual Audition (Hardware Manual Audition)
This mode allows sending IRs manually to the "scratch pad" of a connected Axe-Fx III, FM9, or FM3.
IR Capture
Cab-Lab is also the software interface for capturing IRs with an Axe-Fx II or Axe-Fx III.
Read this: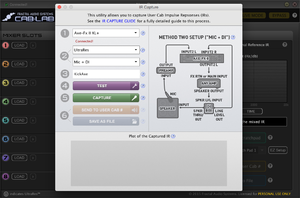 Min Phase and Auto Trim
Read this: Minimum Phase and Auto Trim
UltraRes impulse responses
To mix UltraRes impulse responses in Cab-Lab, you need the .ir version of an impulse response. This is Fractal Audio's proprietary format, targeted at mixing impulse responses. The underlying IRs in Fractal Audio's commercial DynaCab packs are UltraRes.
Stock cabs can't be mixed, unless you create .ir files by using IR Capture. Here's how
FullRes implies responses
Cab-Lab supports FullRes IR capturing and management.
Convert Wave, SYX and IR files
Creators of impulse responses often provide Wave files (.wav). These need to be converted to Fractal Audio's SYX-format to be able to be used in Fractal Audio's amp modelers. Cab-Lab provides a conversion batch routine. The Manage Cabs tool in the editors can also convert Wave files on the fly.
Rename impulse responses
Cab-Lab can rename the internal name of impulse responses. It can also rename impulse responses to match their filenames.
Use Cab-Lab with a real amplifier
"Load your head with a load box, take the output of the load box into your computer and run the audio through Cab-Lab. I would recommend a reactive load box rather than a resistive one." [1]
Read this: LB-2
Videos