Pan/tremolo
From Fractal Audio Systems Wiki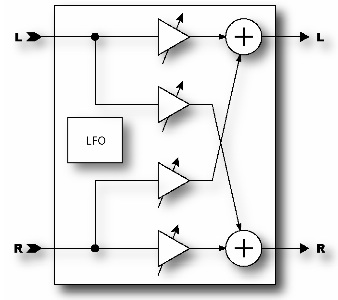 The Axe-Fx Pan/Tremolo provides, as the name would imply, panning and tremolo effects. A panner moves the sound left/right in the stereo field while a tremolo varies the volume. Tremolo can be used to get that classic "surf" sound especially when used with some spring reverb.
Parameters
EFF TYPE - Chooses between the tremolo and panner.
RATE - Sets the frequency of the LFO. Turning the control fully CCW locks the rate to the global LFO1 generator.
DEPTH - Sets the modulation depth for the tremolo.
WIDTH - Sets the modulation depth for the panner. When Width is set to more than 100%, the Panner will pan beyond a normal stereo image
TEMPO - Locks the rate to the global tempo. For example, if the global tempo is 120 bpm and the tempo is set to a quarter note (1/4) then the LFO rate will be 2 Hz (120 bpm / 60 seconds = 2). To ignore the global tempo set the tempo control to NONE.
LFO TYPE - Selects the waveform for the LFO. Try experimenting with the Log or Exp waveforms.
DUTY - This controls the symmetry of the LFO waveform. It has no effect if the waveform is a sine wave. For a triangle wave this controls the shape of the waveform. At 50% the waveform is perfectly symmetrical. For a square wave this controls the ratio of time that the waveform is "on" as opposed to "off". This control has no effect for sine, log, exp or random waveforms
LFO PHASE - Adjusts the phase difference between the left and right lfo waveforms.
PAN CENTER - In panner mode adjusts the apparent center of the stereo image.