Always consult the Owners Manuals and FAQs first.
FM3 information is being added as it becomes available, but it's preliminary and not final until release
IR Player block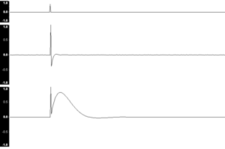 Available on which products
Axe-Fx III: 2 blocks
FM3: no
Axe-Fx II: no
AX8: no
FX8: no
Channels or X/Y switching
What is the IR Player
The IR Player block is a simplified Cab block.
It processes a single Impulse responses (IR), has less features than the Cab block and therefore requires less CPU. It can also process Tone Match block data which has been exported as an Rs. This makes it the first choice to run an impulse response of a device such an acoustic guitar or a preamp.
Read this:
Parameters
Parameters table
Parameter
Bank
Number
Low Cut, High Cut
Filter Slope
Length
Input Select
Mode
The MODE parameter selects between Normal Res and Hi-/UltraRes IRs.