Always consult the official Owners Manuals and Guides first.
Content is currently being reviewed to make sure you have the most complete and up-to-date information
Yeks Guide to the Fractal Audio Amp Models
Jump to navigation
Jump to search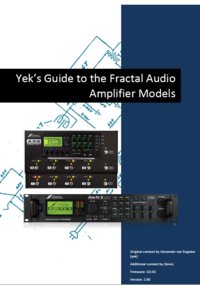 About the guide
Forum member Yek (Alexander van Engelen) goes into detail about every Amp model in his Guide to the Fractal Audio Amp models (PDF).
The guide was preceded by his series of threads on Fractal Audio's user forum. Forum member Simviz assembled the contents of those threads into a PDF guide.
The guide is updated periodically.
If you find the guide useful, consider donating to a good cause.
Brief information about the Drive models is also available on this wiki page: Drive block.