Always consult the official Owners Manuals and Guides first.
Information about the FM3 may be incomplete or wrong, it's being worked on.
Resonator block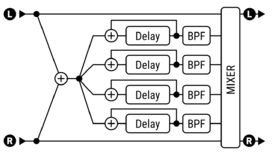 Available on which products
Axe-Fx III: 2 blocks
FM3: 1 block
Axe-Fx II: 1 block
AX8: no
FX8: no
Channels or X/Y switching
Axe-Fx III and FM3: 2 channels
Axe-Fx II: no
What is a resonator
The Resonator effect simulates resonating frequencies. This can be used to simulate the sound chamber of an acoustic instrument.
Parameters
| Parameter | Axe-Fx III / FM3? | Axe-Fx II |
| --- | --- | --- |
| Config/Masters — Mode | yes | |
| Config/Masters — Master Frequency | yes | |
| Config/Masters — Master Level | yes | |
| Config/Masters — Master Pan | yes | |
| Config/Masters — Master Feedback | yes | |
| Config/Masters — Master Q | yes | |
| Config/Masters — Input Mode | yes | |
| Resonators — Frequency 1-4 | yes | |
| Resonators — Feedback 1-4 | yes | |
| Resonators — Filter Location 1-4 | yes | |
| Resonators — Filter Q 1-4 | yes | |
| Level/Pan — Level 1-4 | yes | |
| Level/Pan — Pan 1-4 | yes | |