Always consult the official Owners Manuals and Guides first.
Information about the FM3 may be incomplete or wrong, it's being worked on.
Resonator block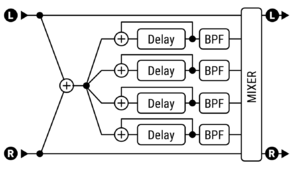 Available on which Fractal Audio products
Axe-Fx III: 2x.
Axe-Fx II: 1x.
AX8: no.
FX8: no.
X/Y and channels
Axe-Fx III: 2 channels.
Axe-Fx II: no.
AX8: n/a.
FX8: n/a.
What does it do
The Resonator effect simulates resonating frequencies. This can be used to simulate the sound chamber of an acoustic instrument.
Resonator in the Axe-Fx III
The output level of the Resonator block has been decreased with 12 dB.
Parameters table
| Parameter | Axe-Fx III | Axe-Fx II | AX8, FX8 |
| --- | --- | --- | --- |
| Config/Masters - Mode | yes | | n/a |
| Config/Masters - Master Frequency | yes | | n/a |
| Config/Masters - Master Level | yes | | n/a |
| Config/Masters - Master Pan | yes | | n/a |
| Config/Masters - Master Feedback | yes | | n/a |
| Config/Masters - Master Q | yes | | n/a |
| Config/Masters - Input Mode | yes | | n/a |
| Resonators - Frequency 1-4 | yes | | n/a |
| Resonators - Feedback 1-4 | yes | | n/a |
| Resonators - Filter Location 1-4 | yes | | n/a |
| Resonators - Filter Q 1-4 | yes | | n/a |
| Level/Pan - Level 1-4 | yes | | n/a |
| Level/Pan - Pan 1-4 | yes | | n/a |