Always consult the official Owners Manuals and Guides first.
Information about the FM3 may be incomplete or wrong, it's being worked on.
Crossover block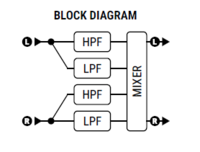 Available on which products
Axe-Fx III: 2 blocks
FM3: no
Axe-Fx II: 2 blocks
FX8: no
AX8: no
Channels or X/Y switching
Axe-Fx III: 2 channels
Axe-Fx II: no
What is a crossover
The Crossover block is a simulation of an electronic crossover. A crossover splits the audio signal into frequency ranges, to be processed or amplified separately.
More explanation:
Parameters table
| Parameter | Axe-Fx III | Axe-Fx II |
| --- | --- | --- |
| Lo/Hi Level Left/Right | yes | yes |
| Lo/Hi Pan Left/Right | yes | yes |
| Frequency | yes | yes |
| Frequency Multiplier | yes | yes |
Tips and tricks
Bi-amping
Some bass/guitar players split their signal in highs and lows, and send them through different amplifiers. This can be accomplished with the Crossover block. The factory preset "Plexi Bi-Amp" (Axe-Fx series only) demonstrates this. Or check Leon Todd's tutorial.