Always consult the official Owners Manuals first!
Pages A-C are under review. Pages D-Z have been checked and are up-to-date.
Crossover block
Jump to navigation
Jump to search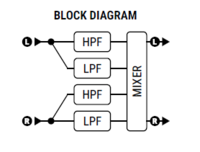 Available on which products
Axe-Fx III: 2 blocks
FM3: no
FM9: 1 block
Axe-Fx II: 2 blocks
FX8: no
AX8: no
Channels or X/Y switching
Axe-Fx III and FM9: 2 channels
Axe-Fx II: no
What is a crossover
The Crossover block is a simulation of an electronic crossover. A crossover splits the audio signal into frequency ranges, to be processed or amplified separately.
More explanation:
Tips and tricks
Bi-amping
Some bass/guitar players split their signal in highs and lows, and send them through different amplifiers. This can be accomplished with the Crossover block. The factory preset "Plexi Bi-Amp" (Axe-Fx series only) demonstrates this. Or check Leon Todd's "5 Minute Tones - Distorted Bass" tutorial.
FM3
There's no Crossover block in the FM3. Filters can be used to achieve something similar. Check out the FM3 factory preset "Polyfuzz Crossover".
Flint tremolo
"The Flint Tremolo Done Right" forum thread discusses the use of the Crossover block to create a Flint simulation.