Yeks Guide to the Fractal Audio Amp Models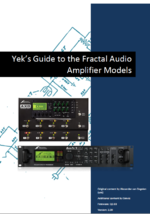 Forum member Yek (Alexander van Engelen) describes all Amp models in his Guide to the Fractal Audio Amp models.
The guide was preceded by a series of threads by Yek on Fractal Audio's user forum. Forum member Simviz assisted with assembling the contents of the threads into the guide. The guide is more complete than the forum threads and is updated periodically.
Brief information about the Amp models, derived from the threads and guide, is provided here.
If you find the guide useful, consider donating to a good cause as explained in the guide.
Yek provides simple presets on his Axe-Fx II XL to demonstrate the Amp models, available here.. If you have an Axe-Fx II Mk I, Mk II, or AX8, use FracTool to convert the presets.