Always consult the official Owners Manuals and Guides first.
Content is currently being reviewed to make sure you have the most complete and up-to-date information
Yeks Guide to the Fractal Audio Drive Models
Jump to navigation
Jump to search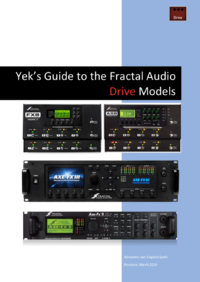 About the guide
Forum member Yek (Alexander van Engelen) goes into detail about every Drive model in his Guide to the Fractal Audio Drive Models (PDF).
The guide was preceded by his series of threads on Fractal Audio's user forum. Forum member Simviz assisted with migrating the contents of those threads into a PDF guide.
The guide is updated periodically.
If you find the guide useful, consider donating to a good cause.
Brief information about the Drive models is also available on this wiki page: Drive block.
Two versions of the guide
Fractal Audio's drive modeling has been improved in firmware Ares 3.02 and later. Gain, output levels, characteristics and tone have changed, depending on the model. So, tips and information for the current firmware may not apply to the Drive models in earlier firmware for the Axe-Fx III, AX8, FX8 and Axe-Fx II.
Because of this, two editions of the guide are available: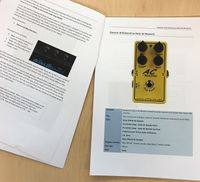 Demo presets
Simple presets are available to demonstrate many of the Drive models. Download the demo presets here
The presets were created by Yek on the Axe-Fx III with firmware Ares 4.03, using clean Band-Commander and dirty Euro Blue Amp models.
A couple of additional interesting presets were added.