Always consult the official Owners Manuals and Guides first.
Information about the FM3 may be incomplete or wrong, it's being worked on.
Yeks Guide to the Fractal Audio Drive Models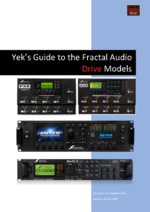 Forum member Yek (Alexander van Engelen) describes every Fractal Audio drive model in his Guide to the Fractal Audio Drive Models, a follow-up to his threads on Fractal Audio's user forum. The guide is more complete than the forum threads and will be updated periodically. Forum member simviz helped again to assemble the contents of the forum threads into a neatly formatted PDF document.
If you find the guide useful, please donate as explained in the guide.
Yek also created simple presets (Axe-Fx II only) to demonstrate the drive models. Download them here.