Always consult the official Owners Manuals and Guides first.
Information about the FM3 may be incomplete or wrong, it's being worked on.
Vocoder block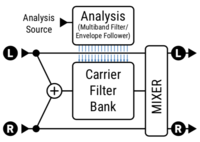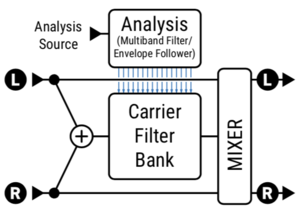 Available on which products
Axe-Fx III: 1 block
FM3: no
Axe-Fx II: 1 block
AX8: no
FX8: no
Channels or X/Y switching
Axe-Fx III: no
FM3: n/a
Axe-Fx II: no
AX8: n/a
FX8: n/a
What is a Vocoder
Configuring the Vocoder
Set up the Vocoder for use with a guitar, or guitar and vocals
Number of bands
The number of bands defaults to 16 (same as Axe-Fx II), but there are 24 bands available.
Parameters table
| Parameter | Axe-Fx III | Axe-Fx II |
| --- | --- | --- |
| Analysis Source | yes | |
| Analysis Channel | yes | |
| Number of Bands | yes | |
| Min/Max Frequency | yes | |
| Filter Resonance | yes | |
| Frequency Shift | yes | |
| Freeze | yes | |
| Master Level | yes | |
| Master Pan | yes | |
| Attack | yes | |
| Decay | yes | |
| Highpass Mix | yes | |
| Level 1-24 | yes | |
| Pan 1-24 | yes | |