Always consult the official Owners Manuals and Guides first.
Information about the FM3 may be incomplete or wrong, it's being worked on.
FracPad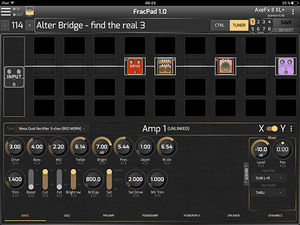 About FracPad
Forum member and programmer AlGrenadine provides a handy editor for the Axe-Fx II, AX8 and FX8: FracPad. It provides all the tools to edit and manage presets, blocks etc, from a tablet, smartphone or computer.
FracPad is commercial software, available for Android (6.0+) and iOS. You can try a demo version ("Lite") first.
A free version is available for Windows and OS X.
Downloads:
More information:
Connect FracPad to mobile device
Android (wired)
This requires a compatible USB adapter, called "USB OTG". This works with the AX8, FX8 and Axe-Fx II models.
No reliable wireless solution (Bluetooth) has been found yet.
Axe-Fx II and iOS (wired and wireless)
AX8/FX8 and iOS (wired and wireless)
Bluetooth wireless connection between Axe-Fx II - AX8 - FX8 and iOS
A Bluetooth connection requires Bluetooth LE (Low Energy), so make sure that the iOS device handles Bluetooth 4.0+. This requires at least an iPad 3 or iPhone 4s (source).
Bluetooth operations on Android are not officially supported, so use at your own risk.
Demo of wireless connection
This tutorial demonstrates how to establish a wireless connection with the hardware using Yamaha's UD-BT01 or MD-BT01 adapter.