FM9
Jump to navigation
Jump to search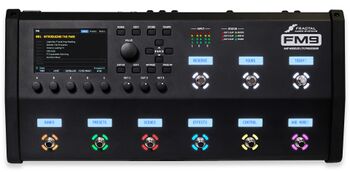 References

Demos:
Pictures of FM9 rigs
Owners of an FM9 proudly show their rigs
About the FM9
Introduction (original FM9)
FRACTAL AUDIO ANNOUNCES THE FM9

Industry Leading Tone and FX in our Most Powerful Floor Unit Ever

CYGNUS AMP MODELING • ULTRA-RES SPEAKER CAB SIMS • LEGENDARY FX • NINE "FC" FOOTSWITCHES • 8x8 USB AUDIO • AND MORE

Plaistow, NH – August 27, 2021 – FOR IMMEDIATE RELEASE: The new FM9 from Fractal Audio Systems is an all-in-one amp modeler, effects processor, foot controller, audio interface—and more—designed for professional use and personal enjoyment. With four DSP cores, the FM9 is the most powerful floor unit ever produced by Fractal Audio, and it features an impressive list of technologies and features from the award-winning Axe-Fx III, FM3, and FC Controllers. Highlights include our industry-leading amp modeling, UltraResTM IR speaker cab simulation, a suite of stompbox and studio effects, expandable FC foot switching, incredibly flexible I/O, 8x8 USB audio interface capabilities, a world-class Mac/PC editor, and more.

The centerpiece of the FM9 is "Cygnus", the latest version of Fractal Audio's critically acclaimed amp modeling technology. Cygnus uses Fractal's proprietary SpectrumTrackTM technology, which improves the response of amp models across the entire range of input levels, especially for amps with cascaded gain stages. The result is truer and more dynamic "voicing," remarkable touch sensitivity, and exceptionally satisfying "chugs." The FM9's two amp blocks each have four channels which can run any of 280+ vintage, modern, and original models covering everything from pristine clean, edge of breakup, and crunchy overdrive, to modern distortion, and insane gain. The FM9 also includes the entire Ultra-ResTM cab collection from the Axe-Fx III, with 2,200+ "Factory" cabs including selections from the today's best producers, plus 1,024 "User" locations for loading your own Impulse Responses ("IRs").

The FM9 is an outstanding multi-effects unit, packed with hundreds of incredible stomp box and studio effects, featuring accurate recreations of many classics, plus exciting originals. Selections include 57+ drive pedal models, dozens of delays, numerous choruses, flangers, phasers, tremolo, and other modulation effects, 50+ reverb types from classic spring to real spaces and beyond, multiple compressors, wahs, EQs and filters, a 2-minute looper, an entire suite of pitch effects including detune, harmony, and virtual capo, plus rotary, synth, "plex" effects including shimmer, and much more. With HumbusterTM and unity gain, the FM9 also works great with a traditional rig for "pre" effects, "post" effects, or both at the same time using the "four cable method."

The FM9 features the same audiophile signal path design as the Axe-Fx III for the utmost in sonic performance and signal integrity. Physically, it is built tough for the road, with a rugged 16-gauge steel chassis and protective endcaps that double as feet. The unit is remarkably easy to use, with intuitive and comfortable controls, plus the same large, full-color main display as the Axe-Fx III and FM3. Nine on-board footswitches, each with its own vari-color LED ring and mini LCD display, provide both tap and hold functions that can be customized to control countless aspects of your rig in realtime. "Footswitch Layouts" provide nine different complete sets of tap and hold functions. At the same time, a FASLINK II port allows connecting up to two Fractal Audio FC-12 or FC-6 foot controllers for extended "pedalboard real estate" or remote control.

The FM9 has numerous inputs and outputs for a great range of different setups. Analog inputs include Fractal Audio's "Secret Sauce" 1/4" instrument input, plus two separate stereo pairs of balanced 1/4" jacks for use as "aux ins" or "returns." The main stereo output is equipped with both XLR and 1/4" outs, plus a headphones jack. Two additional independent stereo outputs — one XLR and one 1/4" — can be used as "aux outs" or "sends." All 1/4" outs feature Fractal Audio's HumbusterTM technology to help combat noisy ground loops. Digital I/O includes 48k SPDIF in and out, plus 5-pin MIDI In and Out/Thru. Finally, three on-board jacks each allow you to connect an external switch or expression pedal such as the Fractal Audio EV-1 or EV-2.

The FM9 also serves as a high-quality USB Audio interface with 8-channel recording and 8-channel playback capabilities. You can record processed signals, a "DI" for re-amping, and stereo aux ins. Audio can be played back directly to the unit's outputs (for DAW monitoring or "backing tracks," for example) or routed through the FM9 for re-amping or for effects processing like a virtual plugin.

FM9-EDIT, a full-featured software editor, is included free. The FM9 is also fully compatible with Fractal-Bot for preset sharing, easy backups/restoration, plus firmware updates in the tradition of continual improvement that has become a hallmark of Fractal Audio.

Above all, the FM9 was designed "by musicians for musicians" to deliver Fractal Audio's uncompromising signature sound quality, fantastic features, and roadworthy reliability in a highly portable format that musicians are sure to appreciate and enjoy.
Platform
(About the FM3 and FM9) "The code for the various blocks is, for all intents and purposes, identical. Updates for the FM3 and FM9 should be pretty much in lockstep." [1]
"FM9 uses the same processors, compiler and development environment as the FM3. [2]
Note: the FM9 Turbo uses two 500MHz processors versus two 450MHz processors in the original FM9.
Specifications
Dimensions: 20.2″ x 9.2″ x 3.5″ (512mm x 233mm x 88mm). The FM9 is the same size as the FC-12 controller.
Weight: 11 lbs 15.8 oz (5.44 kg)
Two dual-core SHARC+ DSPs (original: 450Mhz, Turbo: 500Mhz)
Screen: 800×480 high contrast color LCD (same on the Axe-Fx III Mark II). Grid: 14x6 (same as the Axe-FX III)
Power Consumption: <40 W
Fan: side and bottom venting, thermostat-controlled. WARNING: Do not block vent holes!
Headphones output: 35 Ohm
Pedal ports: 3, TRS (pedal or single switch), 10–100 kΩ max (pedal)
A/D and D/A: 24-bit, 48 kHz, 114 dB dynamic range, frequency response: 20 – 20kHz
Instrument input: rear 1/4" phone jack, unbalanced, "Secret Sauce IV", 1 megaohm (variable), max. input level: +16 dBu
Analog input 2: L/R, 1/4" phone jack balanced (TRS), 1 megaohm, max. input level: +20 dBu
Analog input 3: L/R, 1/4" phone jack balanced (TRS), 1 megaohm, max. input level: +20 dBu
Analog output 1: L/R, XLR balanced, ground lift, -10 dBv or +4 dBu, 600 Ohm, +20 dBu max.
Analog output 2: L/R, XLR balanced, ground lift, -10 dBv or +4 dBu, 600 Ohm, +20 dBu max.
Analog output 3: L/R, 1/4" phone jack unbalanced, Humbuster, 600 Ohm, +20 dBu max.
USB: Type B port, USB 2.0, 8x8 USB Audio (48 kHz fixed)
FASLINK II: XLR-F
MIDI: IN (5-pin DIN) and OUT/THRU (5-pin DIN)
S/PDIF: RCA Coaxial, uncompressed PCM, 48 kHz (fixed)
Battery: CR-2032
File:FM-9 Layout Drawing 2021-06-26.PDF
Manufacturing
"The entire product line was conceived years ago. The goal was to maximize the number of parts shared between products. The footswitch PC boards do three switches each. An FM3 has one board. An FC6 has two. An FM9 has three and an FC12 has four. All products use the same LCDs, encoders, side plates, etc., etc. This reduces cost and repair inventory. The FC6 and the FM3 are basically the same enclosure. The FC12 and FM9 are basically the same enclosure. This isn't a huge market. Margins are thin so you have to think of ways to minimize development and product costs. Parts bin methodology is the route we took on this generation." [3]
You can take the plastic end caps off, but you need to keep air space under the unit and to the sides for airflow.
Model differences
Original FM9
See above.
FM9 Turbo
The FM9 Turbo, or FM9T, was announced in August 2022 and has replaced the first model. It uses two 500MHz processors versus two 450MHz processors in the original version. This provides 10% more CPU power. The Turbo unit looks just like the standard, but shows "TURBO" on the "Splash Screen" when it is booted (the same way Axe-Fx III turbo is distinguished.)
"The original FM9 used the 450MHz version as that was all that was available at the time. The Turbo uses the 500MHz version." [4]
Current FM9 units cannot be converted or upgraded to Turbo models. The size of the mini displays is the same as on the original FM9. All onboard memory is the same; presets are fully cross compatible between the two variants assuming sufficient CPU. The count of presets, blocks, channels, effect types, scenes, layouts, etc. is the same on both variants. Both variants will continue to be fully supported with new firmware, FM9-Edit editor, and other forms of support.
Processing
The FM9 uses the same processor type (Analog Devices "Griffin" DSP: one ARM and two SHARC+ cores) as the FM3, but two instead of one. [5]
The FM9 Turbo uses two 500MHz SC587 processors versus two 450MHz SC587 processors in the original FM9. The processor speed is displayed in Setup : Utilities : ADC Levels.
"The original FM9 used the 450MHz version as that was all that was available at the time. The Turbo uses the 500MHz version." [6]
Amp modeling, Delay blocks and Reverb blocks run in dedicated DSP cores.
Like the FM3, impulse responses (Cab block) are processed in the accelerator. [7]
"The III uses (1) dual-core Texas Instruments DSP. The FM3 uses (1) dual-core Analog Devices DSP. The FM9 uses (2) dual-core Analog Devices DSPs. The TI DSPs are much more powerful than the Analog Devices DSPs per clock and run at around twice the clock speed as well. So one TI DSP core is about four times more powerful than one Analog Devices DSP core. If we normalize processing power to the III it would be:

Axe-Fx III: 100%
FM9: 50%
FM3: 25%

So why not use the TI DSPs in everything? Power. The TI DSPs use more power and generate more heat requiring active cooling. They are also more complicated to use requiring dedicated clock generation units, multiple power supplies with specific sequencing requirements, etc." [8]
"It has twice the DSP cores of an FM3. Four SHARC+ DSP cores. So it has about twice the processing power. [9]
"FM3 and FM9 use the same SHARC+ family as the QC. FM9 has same number of cores so power should be comparable." [10]
(FM9) "USB is handled by a separate microcontroller (the same micro that the Axe-Fx III uses)." [11]
The internal and ambient temperature is displayed in Setup : Utilities : ADC Levels.
Latency
Latency should not increase with CPU load.
"Most blocks do not add latency. The only blocks that add latency are Drive and Amp. The reason being that they oversample and oversampling adds latency." [12]
Firmware
Comparing the FM9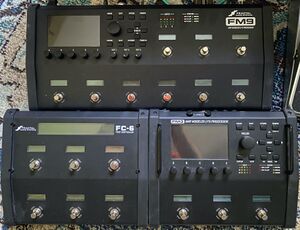 Computer
A single USB driver (for USB Audio and MIDI-over-USB) is required for Windows operating systems. Available here
No driver is required for Mac operating systems.
Note: when using a USB-C to USB adapter on a newer Apple computer, plug the USB-C adapter into a the port on the Mac first, allow it several seconds to "wake up" and then connect a USB cable and FM9 into the adapter.
FM9-Edit
Read this: Editors
Firmware

Read this:
Boot time
"The progress bar during boot indicates presets being copied from FLASH to RAM. If a preset is empty it is skipped so the more empty presets you have the shorter the boot time." [13]
Press and hold ENTER while the unit powers up to see system startup messages.
I/O connections

Read this:
The FM9 does not have onboard relays but it can transmit MIDI messages to a 3rd party amp or a dedicated relay switcher.
Pedal ports
The FM9 has three pedal ports for direct connecting to expression pedals and/or single external switches.
An expression pedal should have a linear resistance taper, max resistance of 10-100 kOhm, and requires a TRS-to-TRS cable. The pedal must be calibrated before use in the I/O menu.
An external switch can be a momentary or latching one, and uses a TS-to-TS cable (single button switch). Use the I/O menu to tell the hardware what you have connected.
External switches can perform the other or the same tasks as the onboard switches.
The Owner's Manual contains tutorials about connecting, calibrating and configuring a pedal, either connected directly to the device, or via another controller.
The FM9 allows selecting a pedal or switch directly as a modifier source (without assigning it to an external controller first).
The FC-6 and FC-12 foot controllers also allow connecting expression pedals and switches to the controller. These are configured in the Setup > Foot Controllers menu. Read this: FC-6 and FC-12 foot controllers
Presets
Number of presets:
About the factory presets:
Effects list
Click on the image below:


There's a comparison between the various hardware products in the Blocks Guide.
System reset
Read this: Reset system parameters
Buttons, knobs, switches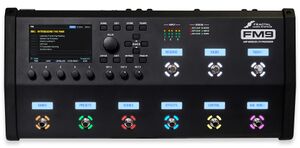 VALUE wheel (without push-button function)
NAV buttons. On the Home page these let you switch presets (left/right) and scenes (up/down)
PAGE LEFT/RIGHT buttons
HOME menu button
EDIT button
ENTER/EXIT buttons. ENTER also jumps to the layout grid from any screen
5 rotary push-buttons (ABCDE) perform various functions in the GUI
Output level knobs for Outputs 1-3
Onboard switches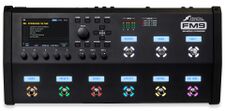 Nine onboard footswitches – each with variable-color LED ring and mini LCD display — provide both tap and hold functions, which can be customized to do stuff, using switch layouts and views, globally or pre-preset.
The switches can be programmed to:
switch presets
switch scenes
switch channels
switch layouts and views
turn effects on/off
perform utility tasks
etc.
This is explained in depth in the FM3's Owner's Manual and in the Footswitch Functions Guide. Read this: FC-6 and FC-12 foot controllers.
Adding an FC controller
The FM9 can be expanded with up to two FC controllers.
Read this: FC-6 and FC-12 foot controllers
Shortcuts
Note: firmware 2 and later for the FM9 add these shortcuts to the user interface:
Double-tapping EDIT edits the previous block
Double-tapping HOME enters the layout grid
Double-tapping STORE prompts immediately
When on the Home or Layout pages, double-tapping the Quick Entry knobs does the following:

A: Enters the Amp 1 menu (A = Amp).
B: Enters the Drive 1 menu (B = Boost/Drive)
C: Enters the Cab 1 menu (C = Cab)
D: Enters the Delay 1 menu (D = Delay)
E: Enters the Reverb 1 menu (E = rEverb)
Performance Pages: These allow fast access to max 10 often-used parameters per page. You can choose these in FM9-Edit on the Perform screen. You can use block parameters, parameters from controllers (including Tempo), global parameters. There are Global Perform and Per-Preset Perform pages. Soft-knobs D resp. E let you jump to the Edit menu of AMP resp. CAB.
HOME page:
Press ENTER to jump to the layout grid of the current preset. Press EXIT to return to the Home screen
Use NAV LEFT/RIGHT to switch presets
Use NAV UP/DOWN to switch scenes
Turn knob "A" to switch scenes
AMP block > Output EQ:
Press ENTER to flatten the bands, and NAV UP/DOWN to change bands
CAB block:
Go to Cab Number field and press ENTER to view the Cab Picker
LAYOUT GRID:
Press-and-hold ENTER to create (or clear) a series of shunts
Block Edit menu:
Keep pressing EDIT to step through the Edit menus of all blocks in the preset (top-to-bottom, left-to-right)
GENERAL:
Press EDIT after storing a preset to go right back to where you were
If you navigate anywhere from the Home page, EXIT will return you to the first screen of that page
CONTROLLERS:
Press TEMPO to open the Controllers menu
SEQUENCER:
Switch presets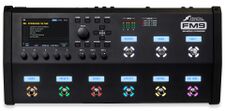 To switch presets:
Value wheel or NAV right/left button
Onboard switch
External switch
FC controller
MIDI
Editor
Switch scenes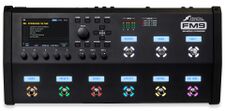 To switch scenes:
NAV buttons or soft knob
Onboard switch
External switch
FC controller
MIDI
Editor
Switch channels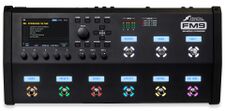 To switch channels:
Soft knob
Onboard switch
External switch
FC controller
MIDI
Editor
Read this: Channels
Switch layouts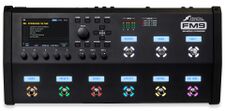 Layouts on the FM9 are the same as on the FC controllers.
The FM9 provides 8 layouts plus a Master Layout. Additionally, the FM9 support Views (shifts focus within a layout)
Read this: Layouts
Control Switches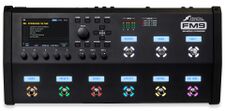 Read this: Modifiers, Controllers and Control Switches