Always consult the official Owners Manuals and Guides first.
Information about the FM3 may be incomplete or wrong, it's being worked on.
FC-6 and FC-12 foot controllers
The information on this page supplements the official manuals.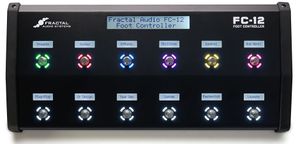 Product information
"A guitar processor as powerful as the Axe-Fx III deserves an equally powerful foot controller. While the Axe-Fx III is fully MIDI-capable and can easily be controlled from a traditional MIDI controller or computer, our next-generation control system combines plug-and-play ease, built-in intelligence, and the flexibility that working musicians demand. An FC controller connected to an Axe-Fx III provides complete remote control of banks, presets, scenes, blocks, channels, and more.
Two models provide a range of options for musicians with different sized needs. The FC-6 has six footswitches and is small enough to fit in many gig bags, while the larger FC-12 has 12 switches. Each FC Series controller is housed in a rugged steel enclosure and features a large, bright, transflective main display designed for excellent readability under adverse lighting conditions. Our new FASLINK II connectors provide power and 2-way communication over a single XLR cable. You can connect up to four expression pedals (such as the Fractal Audio EV-1 or EV-2) and four external switches to each FC controller. Through our flexible "modifier" system, pedals and switches can control an incredible range of functions on the Axe-Fx III. Best of all, every function of the FC series controller is programmed right from the Axe-Fx itself, so no programming of the FC is required.
Each FC controller can have up to 12 different "layouts" with each layout featuring your choice of control functions. Default factory layouts are provided to get up and running quickly while advanced users can program their own custom layouts to fit their individual performance needs.
A layout can contain any combination of functions including Preset, Scene, Channel, Effect Bypass, and more. Each switch can also perform multiple tasks with functions assignable to both TAP and HOLD. Need more switches? Up to four FC series foot controllers can be daisy-chained for up to 48 switches at once!
For large venues, any two controllers can be paired using "Clone Mode". This allows one controller on stage for the artist and one off-stage controlled by a technician.
Each footswitch combines three physical elements:
A rugged solid-state switch with no mechanical contacts to fail
An individual "scribble strip" LCD display which dynamically shows the function(s) of the switch
A color LED ring which helps identify footswitch state and category at a glance.