Always consult the official Owners Manuals and Guides first.
Information about the FM3 may be incomplete or wrong, it's being worked on.
EV-1 and EV-2 pedals
Fractal Audio EV-1 expression pedal
Large version of Fractal Audio's expression pedal and analog volume pedal.
Product information:
"The EV-1 is an all new EXPRESSION PEDAL, perfect for use with all Fractal Audio Systems products (and many 3rd-party devices). Unlike most expression pedals it has a true linear response with planetary gearing and a long, smooth pedal throw. The EV-1 doubles as an analog volume pedal, with separate IN and OUT jacks connected to an audio-taper pot. It features a sturdy cast metal housing, comfortable non-slip rubber tread, and is available in either Silver or Black."
Planetary Gear Drive
High-quality dual potentiometer rated for 1M rotations
Durable cast aluminum chassis
Adjustable pedal tensioner
3 jacks at the front: In, Out and Expression. In and Out are for volume
Requires TRS-to-TRS cable when used as an expression pedal
Not spring-loaded
Built-in analog volume pedal (500K high-impedance)
"The planetary gear drive solves the dead zone problem."
"They also work as a traditional volume pedal. There are two ganged pots inside, one is a high-impedance log-taper volume pot and the other is a low-impedance linear-taper expression pot. The design is our own." source
"We make tour-grade equipment. The potentiometer in the EV-1 has a conductive plastic element with IP67 ingress protection. It is rated for 1,000,000 rotations and probably costs 10 times what the pot in other products cost. The housing is cast aluminum which is then powder coated for extra protection. You're getting something you can give to your grandchildren." source
"The EV-1s are fully made in China except for the pots which are made in USA as nothing in China or Japan met our lifespan requirement (1 million rotations minimum)." source
Buy TRS-to-TRS cables directly from Fractal Audio
Fractal Audio EV-2 expression pedal
Smaller version of Fractal Audio's expression pedal and analog volume pedal.
Planetary Gear Drive
High-quality dual potentiometer rated for 1M rotations
Durable cast aluminum chassis
Adjustable pedal tensioner
1 jack at the front: expression
In and Out jacks at the sides for volume (analog, 500K high-impedance)
Requires TRS-to-TRS cable when used as an expression pedal
Not spring-loaded
Pedal size
EV-1, Ernie Ball and Mission: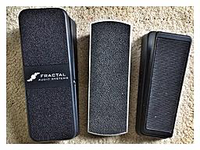 EV-1, Mission and EV-2: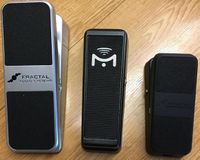 Overview and comparison of both pedals, by Michael French
More information about expression pedals