MIDI Floor Controller Comparison Chart
From Fractal Audio Systems Wiki
The Chart
This chart is designed to compare controllers according to their functionality when used with the Axe-FX. As such, the data within may not be entirely accurate or inclusive for all possible situations or features.
Please submit changes, corrections, etc in the Axe-FX forum thread here: http://www.fractalaudio.com/forum/viewtopic.php?f=14&t=10492

Here is the chart as of Oct 16th, 2009 (v8):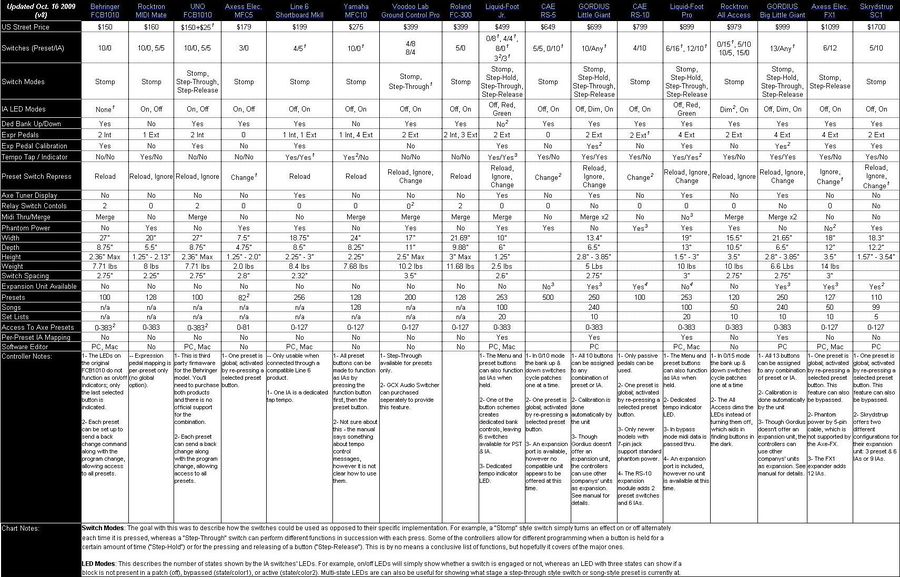 Downloads
Download the HTML version of the chart with links to the product sites here.
Version Notes
NOTE: User names refer to Axe-FX forum users
Lots of info added. Thanks to godprobe for the FCB1010 & UNO data!
More info added. Many thanks to 12ax7heaven for the All Access tempo function correction!
Added some controllers, corrected some info, added explanation of switch modes. A huge thank you to Xavier from Gordius for the info on their products and the UNO.
Just some house keeping; nothing really new added.
Many thanks to Jim from Rocktron and Jeff from Liquid-Foot for verifying & adding to the information on their products!
Added a controller, a column for expansion modules, and a note about LED modes. Also changed the footnote system and a couple of fonts, as well as made a correction on the Gordius units. Many thanks to mworkman for pointing me towards the Skrydstrup products. Also thanks to iaresee for the Lexicon submission, though it didn't end up in the spreadsheet (discontinued :( ).
Thank you to Mario from Axess Electronics for the corrections and verification on their products.