Multitap Delay block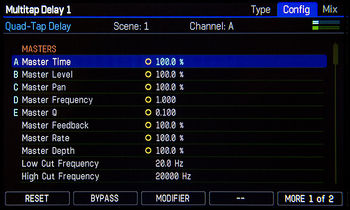 Available on which Fractal Audio products
Axe-Fx III: 2x.
Axe-Fx II: no.
AX8: no.
FX8: no.
X/Y and channels
Axe-Fx II: 2 channels.
Axe-Fx II: n/a.
AX8: n/a.
FX8: n/a.
Multitap Delay in the Axe-Fx III
The Multitap Delay is an Axe-Fx III exclusive effect. It's similar to the Multi Delay block in the Axe-Fx II, without the features that have been moved to the Plex Delay and Ten-Tap Delay blocks.
More information in the Owner's Manual.
LFOs
The Multitap Delay's algorithms are different from the Multi Delay. There is no longer an LFO for each tap. Two LFOs each generate multiple phases which are summed and applied to each tap.
"All the types now have three LFOs. The first two LFOs modulate the delay times. The third modulates the filter frequencies. The Phase of the LFO selects the phase between each tap."
Envelope follower
The Multitap Delay has its own envelope follower, allowing volume swells.
Parameters table
| Parameter | Axe-Fx III | Axe-Fx II (Multi Delay) | AX8, FX8 (Multi Delay) |
| --- | --- | --- | --- |
| Type | yes | | |
| Config - Masters - Master Time | yes | | |
| Config - Masters - Master Level | yes | | |
| Config - Masters - Master Pan | yes | | |
| Config - Masters - Master Frequency | yes | | |
| Config - Masters - Master Q | yes | | |
| Config - Masters - Master Feedback | yes | | |
| Config - Masters - Master Rate | yes | | |
| Config - Masters - Master Depth | yes | | |
| Config - Masters - Low Cut Frequency, High Cut Frequency | yes | | |
| Config - Masters - Drive | yes | | |
| Config - Delay Lines - Time 1,2,3,4 | yes | | |
| Config - Delay Lines - Tempo 1,2,3,4 | yes | | |
| Config - Delay Lines - Feedback 1,2,3,4 | yes | | |
| Config - Level/Pan - Level 1,2,3,4 | yes | | |
| Config - Level/Pan - Pan 1,2,3,4 | yes | | |
| Config - Filters - Frequency 1,2,3,4 | yes | | |
| Config - Filters - Q 1,2,3,4 | yes | | |
| Config - LFOS - LFO 1 Type, LFO 2 Type | yes | | |
| Config - LFOS - LFO 1 Phase, LFO 2 Phase | yes | | |
| Config - LFOS - LFO Rate 1, LFO Rate 2 | yes | | |
| Config - LFOS - LFO 1 Tempo, LFO 2 Tempo | yes | | |
| Config - LFOS - LFO 1 Depth, LFO 2 Depth | yes | | |
| Config - LFOS - Filter LFO Type | yes | | |
| Config - LFOS - FIlter LFO Phase | yes | | |
| Config - LFOS - Filter LFO Rate | yes | | |
| Config - LFOS - Filter LFO Tempo | yes | | |
| Config - Filter LFO Depth | yes | | |
| Config - Diffusor - Input Diffusion | yes | | |
| Config - Diffusor - Diffusion Time | yes | | |
| Config - Envelope Follower - Threshold | yes | | |
| Config - Envelope Follower - Attack Time | yes | | |
| Config - Envelope Follower - Release Time | yes | | |
| Release Time | yes | | |
| Quad-Series Delay - Feedback | yes | | |
| Quad-Series Delay - Feedback Send | yes | | |
| Quad-Series Delay - Feedback Return | yes | | |
| Diffusor - Master Feedback | yes | | |
| Diffusor - LFO 1 Rate | yes | | |
| Diffusor - LFO 1 Tempo | yes | | |
| Diffusor - LFO 1 Depth | yes | | |
| Diffusor - Time 1,2,3,4 | yes | | |
| Diffusor - Tempo 1,2,3,4 | yes | | |
| Quad-Tape Delay - Motor Speed | yes | | |