Multiband Compressor block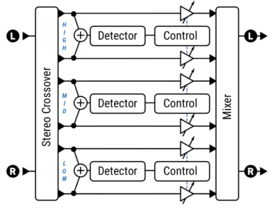 ]]
Available on which Fractal Audio products
Axe-Fx III: 2x.
Axe-Fx II: 2x.
AX8: no.
FX8: no.
X/Y and channels
Axe-Fx III: 2 channels.
Axe-Fx II: no.
AX8: n/a.
FX8: n/a.
What is it
A multiband compressor consists of multiple compressors working in parallel, each operating on a separate band of frequencies. Fractal Audio's Multiband Compressor has 3 compressors.
More information in the Owner's Manual.
Configuring the Multiband Compressor
The MBC does a fine job already at default settings.
Parameters table
| Parameter | Axe-Fx III | Axe-Fx II | AX8, FX8 |
| --- | --- | --- | --- |
| Crossover Frequency | yes | | n/a |
| Threshold | yes | | n/a |
| Ratio | yes | | n/a |
| Attack | yes | | n/a |
| Release | yes | | n/a |
| Level | yes | | n/a |
| Detector | yes | | n/a |
| Mute | yes | | n/a |