Multiband Compressor block
From Axe-Fx II Wiki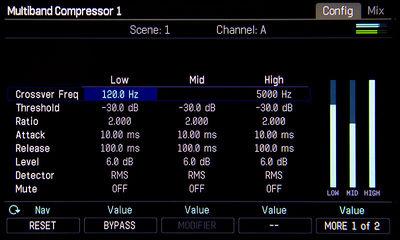 Multiband Compressor: supported by which Fractal Audio products
Axe-Fx III: 2x.
Axe-Fx II: 2x.
AX8: no.
FX8: no.
Multiband Compressor: X/Y switching or channels
Axe-Fx III: 2 channels.
Axe-Fx II: no.
AX8: n/a.
FX8: n/a.
What is multiband compression
Multiple compressors working in parallel, each operating on a separate band of frequencies. The Multiband Compressor provides 3 compressors.
More information in the Owner's Manual.
How to configure the Multiband Compressor
The MBC does a fine job already at default settings.