FracTool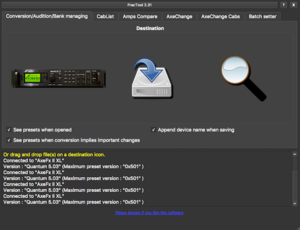 About FracTool
FractalTool is a handy utility for the Axe-Fx II and III, AX8 and FX8, created by forum member and programmer AlGrenadine.
FracTool for Axe-Fx II models and AX8
FracTool is constantly being improved. Check the thread above to learn its latest features, including:
Conversion of presets between FAS devices
Opens Axe-Fx II XL and XL+ presets on Axe-Fx II and Mark II devices, and performs offline conversion.
Opens Axe-Fx II presets on AX8 and FX8 devices, and vice versa, and performs offline conversion.
Converts Tone Match data, exports to WAV.
Converts Preset/Cab bundles.
Strips Global Block data.
Auditioning and viewing
Shows the list of cabs being used by presets.
Lists the presets in which a specific cab is being used.
Shows the layout of a preset, online and offline.
Shows a block parameters, online and offline.
Exports blocks from a preset.
Auditions single or multiple presets, cabs, and banks.
Creates banks from presets, converts banks into presets.
Renames presets and cabs.
Auto-auditions presets and cabs by using a timer.
Amp models
Compares amp models without changing parameters.
Resets specific parameters.
Batch Setter
Set, increase, or decrease a parameter in multiple presets.
Other
Exports grid and parameters values to PDF, CSV, XML or HTML.
Supports Axe-Change.
Auto-updates itself.
Supports ZIP-files.
FracTool for Axe-Fx III
FracTool can convert Axe-Fx II/XL/XL+ presets, as well as AX8 and FX8 presets, to Axe-Fx III.
FracTool for FX8
FracTool supports the FX8, but because of differences in the architecture of the FX8, there are limitations.
Parallel paths are not processed when converting to Axe-Fx and AX8.
Only the first 8 blocks of Axe-Fx and AX8 presets are processed when converting to FX8.
Demonstration video