Formant effect
From Axe-Fx II Wiki
The information on this page supplements the official manuals.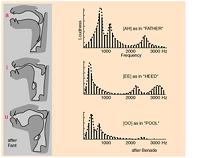 Formant: supported by which Fractal Audio products?
Axe-Fx II: yes.
FX8: yes.
AX8: yes.
Formant and X/Y switching
The Formant block does not support X/Y switching.
Formant notes
Cliff: "The Formant on the Axe-Fx II is identical to the Ultra." source
Because of the resonant frequencies of the Formant filter, it's easy to make the digital signal clip. Make sure there's enough headroom in the preset level.
Simulating a talkbox with Formant
With the help of the Formant effect you can simulate a talkbox and (if you really really must ...) play Livin' on a Prayer. Here are some threads to get you going:
A real talkbox doesn't go through a speaker, so experiment with leaving out a Cab block.
Want tips for integrating your real talkbox to your Axe-Fx II rig? Search the forum for "banshee".