Crossover block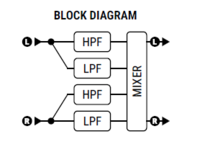 Available on which Fractal Audio products
Axe-Fx III: 2x.
Axe-Fx II: 2x.
FX8: no.
AX8: no.
X/Y and channels
Axe-Fx III: 2 channels.
Axe-Fx II: no.
FX8: n/a.
AX8: n/a.
What is it
The crossover is the virtual version of an electronic crossover. A crossover divides an audio signal into multiple frequencies, to be processed or amplified separately.
More explanation in the Owner's Manual.
Parameters table
| Parameter | Axe-Fx III | Axe-Fx II | AX8, FX8 |
| --- | --- | --- | --- |
| Config - Lo/Hi Level Left/Right | yes | yes | n/a |
| Config - Lo/Hi Pan Left/Right | yes | yes | n/a |
| Config - Frequency | yes | yes | n/a |
| Config - Frequency Multiplier | yes | yes | n/a |